Published: Monday, December 05, 2022 11:54 AM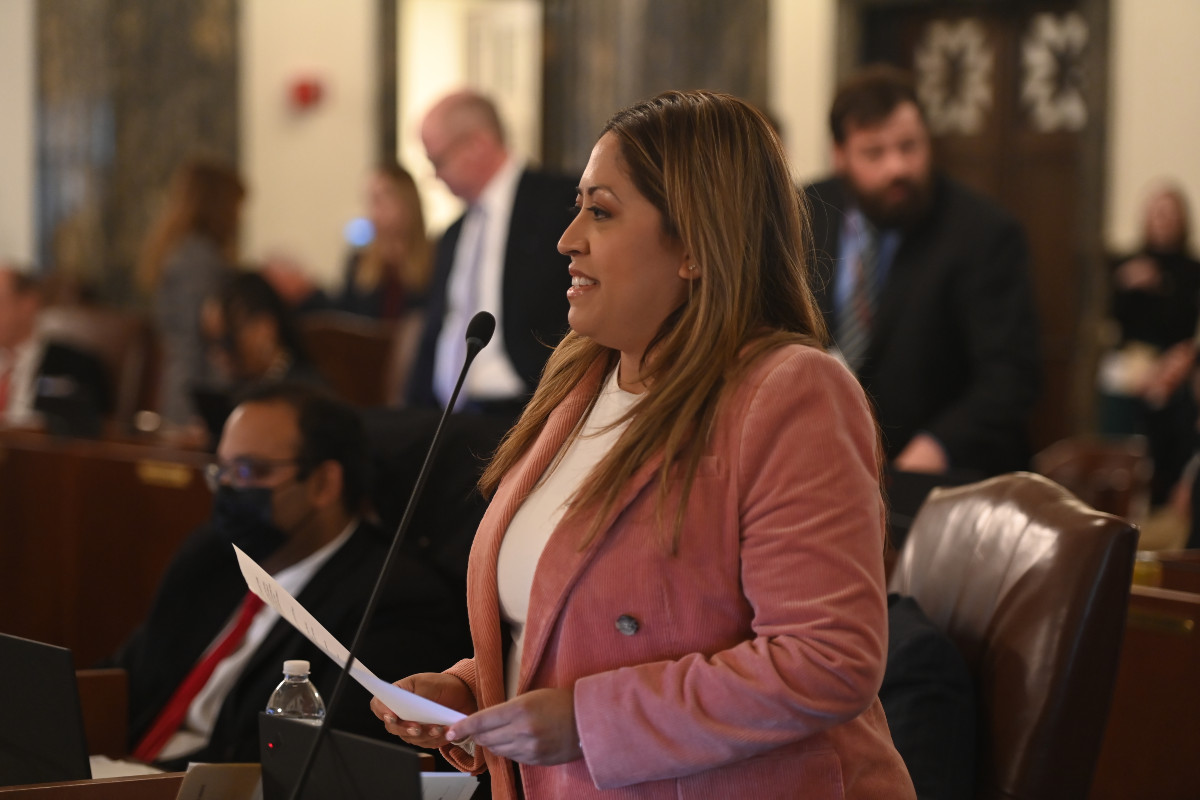 SPRINGFIELD – State Senator Celina Villanueva advanced legislation from the Illinois Senate on Thursday that would allow every person in the care of the Department of Corrections to receive underwear and menstrual products free of charge.
"While women in the Illinois Department of Corrections are provided with some free feminine hygiene products, incarcerated women consistently state that the sanitary napkins and feminine hygiene products provided by the State are inconsistently provided or insufficient to meet their needs," said Villanueva (D-Chicago). "As a woman myself, I cannot imagine having limited access to feminine hygiene products that are a necessity to my everyday life. These women are no different and deserve to have proper healthcare resources regardless of their incarceration."
House Bill 4218 addresses the lack of equal healthcare, basic hygiene and gender disparities in IDOC facilities. The measure would make these products available for all men, women and non-binary individuals under IDOC vailable free of charge.
According to the ACLU, hygiene products for those who are incarcerated are extremely limited. Throughout the U.S., prisoners and detainees earn low or no wages and struggle to afford menstrual products from in-facility commissaries.
"Individuals who have money in their commissary accounts may be able to buy additional hygiene supplies," said Villanueva. "However, women who do not have outside monetary support from family can experience unconscionable humiliation and extreme discomfort during menstruation without adequate feminine hygiene products."
House Bill 4218 has passed in both chambers and awaits the governor's signature before becoming a law.
###
SPRINGFIELD – La Senadora Estatal Celina Villanueva avanzó una legislación en el Senado de Illinois el jueves que permitirá que todas las personas que estén bajo los cuidados del Departamento de Correccionales reciban ropa interior y productos menstruales gratuitos.
"A pesar de que las mujeres que están en el Departamento de Correccionales de Illinois reciben algunos productos de higiene femenina, las mujeres encarceladas afirman que las toallas sanitarias y otros productos de higiene femenina provistos por el Estado no se otorgan con la consistencia ni suficiencia que cubran las necesidades," dijo Villanueva (D-Chicago). "Yo misma como mujer, no puedo imaginar tener acceso limitado a estoy productos que son una necesidad en la vida cotidiana. Estas mujeres no son diferentes y merecen tener a su alcance los recursos para el cuidado de su salud, independientemente de estar encarceladas."
La iniciativa HB 4218 atiende la falta de equidad en los cuidados a la salud, higiene básica disparidades de género en las instalaciones de IDOC. La medida hará que estos productos estén disponibles de forma gratuita para todos los hombres, mujeres e individuos no-binarios que se encuentren bajo la supervisión de IDOC.
De acuerdo con ACLU, los productos de cuidado de higiene para quienes están encarcelados son muy limitados. En Estados Unidos, los prisioneros y detenidos no reciben ingresos o son muy bajos y batallan para pagar productos menstruales en las instalaciones en las comisarías.
"Las personas que tienen dinero en las cuentas de las comisarías pueden tener la capacidad de comprar suministros adicionales para la higiene," dijo Villanueva. "no obstante, las mujeres que no reciben apoyo económico del exterior de parte de su familia pueden sufrir de una tremenda humillación e incomodidad extrema durante su menstruación si no cuentan con productos de higiene femenina adecuados."
La iniciativa HB 4218 fue aprobada por las dos cámaras legislativas y está en espera de ser firmada por el gobernador para convertirse en ley.
Category: News