Published: Wednesday, September 14, 2022 04:02 PM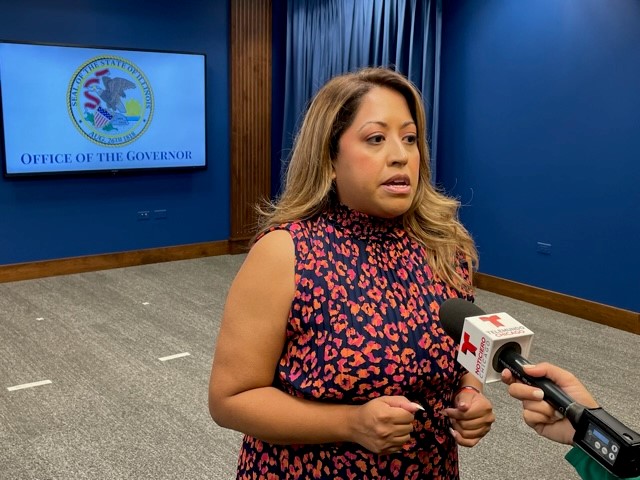 CHICAGO – Following the arrival of hundreds of asylum seekers in Chicago, State Senator Celina Villanueva is standing in support of the city and state's efforts to provide them with a safe haven.
"To see our state step up to the plate to make these asylum seekers feel at peace makes me proud to serve in Illinois," said Villanueva (D-Chicago). "It's vital we make sure that the people who are arriving in our city get the proper medical support, housing and food they need."
Villanueva spoke at a press conference Wednesday, where the governor announced he has activated 75 Illinois National Guard members to assist, and outlined a disaster proclamation to provide asylum seekers with the support and services they need. The proclamation unlocks vital resources by allowing the Illinois Emergency Management Agency to coordinate with other state agencies and local governments, including Cook County and the City of Chicago to help provide transportation, emergency shelter, housing, food, health and medical screenings, assessments and more.
Villanueva, who was born and raised in the Little Village neighborhood of Chicago, wants to make sure individuals know that Illinois is a safe haven. Growing up in a predominately Latino community, her mother always stressed the importance of helping those in need, especially those who migrated to Chicago. As a senator, she is doing her part to ensure a better life for refugees by standing in solidarity with them and working to provide endless means of resources for them to settle into their new life.
"The people that are coming to our city are looking for opportunities after fleeing a variety of issues such as poverty, violence, and other situations that diminished their quality of life," said Villanueva. "The same challenges they are faced with are the same challenged my family was met with when they decided to migrate to America for a better chance at life. That is why I will always stand in solidarity with them and fight to make Chicago their beacon of hope."
###
CHICAGO - Después de la llegada de cientos de solicitantes de asilo a Chicago, la senadora estatal Celina Villanueva apoyó los esfuerzos de la ciudad y del estado para ofrecerles un refugio seguro.
"Ver a nuestro estado dar un paso al frente para que los solicitantes de asilo se sientan en paz, me hace sentir orgullosa de representar a Illinois", dijo Villanueva (D-Chicago). "Es fundamental que aseguremos que las personas que están llegando a nuestra ciudad reciban el apoyo médico, el alojamiento y la alimentación que necesitan"..
Villanueva participó en una conferencia de prensa el miércoles, en la que el gobernador anunció que activó a 75 miembros de la Guardia Nacional de Illinois para ayudar, y destacó la proclamación de desastre para ofrecer a los solicitantes de asilo el apoyo y los servicios que necesitan. La proclamación permite que la Agencia de Gestión de Emergencias de Illinois coordine con otras agencias estatales y gobiernos locales, incluyendo el condado de Cook y la ciudad de Chicago, para proveer transporte, refugio de emergencia, vivienda, alimentos, exámenes médicos y de salud, evaluaciones y más.
Villanueva, quien nació y creció en el barrio de La Villita de Chicago, quiere asegurarse de que la gente sepa que Illinois es un refugio seguro. Al crecer en una comunidad predominantemente latina, su madre siempre le recalcó la importancia de ayudar a los necesitados, especialmente a los que emigraron a Chicago. Como senadora, hace su parte para asegurar una vida mejor para los refugiados, solidarizándose con ellos y trabajando para proporcionar un sinnúmero de recursos para que se incorporen a su nueva vida.
"Las personas que llegan a nuestra ciudad buscan oportunidades después de huir de una serie de problemas como son la pobreza, la violencia y otras situaciones que disminuyeron su calidad de vida", dijo Villanueva. "Los mismos retos a los que se enfrentan son los mismos a los que se enfrentó mi familia cuando decidió emigrar a Estados Unidos en busca de una vida mejor. Por eso siempre estaré en solidaridad con ellos y lucharé para que Chicago sea su luz de esperanza", finalizó.
Category: News