Published: Wednesday, September 28, 2022 10:37 AM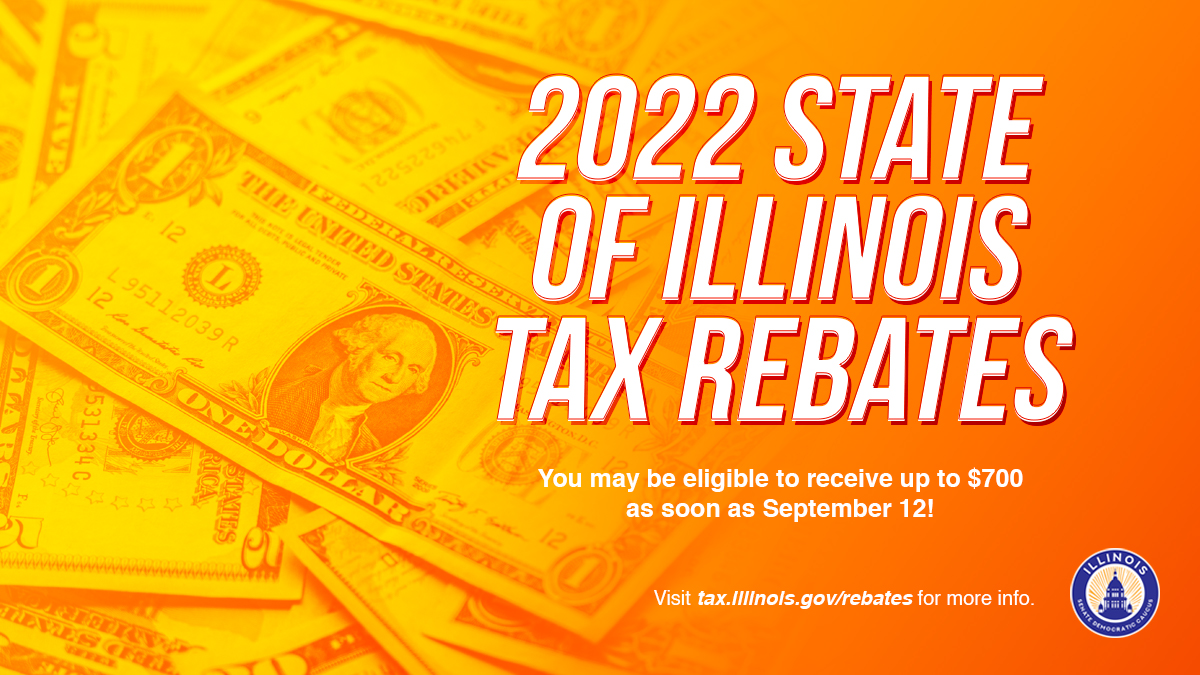 CHICAGO – Millions of Illinoisans are waiting to receive their tax rebates as part of the Illinois Family Relief Plan. State Senator Celina Villanueva is reminding residents they can easily check their rebate status online.
"These rebates will help 95% of taxpayers recover from the financial hardships they are currently battling due to the pandemic, inflation and other unforeseen circumstances," said Villanueva (D-Chicago). "Rebates are on the way, so I advise people to check their status."
Supported by Villanueva, the Illinois Senate championed Senate Bill 157, which provides millions of Illinois taxpayers with financial relief – including direct tax rebates. The rebates began to roll out Sept. 12, leaving many to wonder when they will receive their relief.
People who filed taxes will automatically receive their rebate – otherwise they have until Oct. 17 to do so. To check the status of a rebate, click here and select "Where's My Rebate?" An IL-PIN number is needed to check the status. To find an IL-PIN number, click here and select "IL-PIN Inquiry."
Under the law, people who filed 2021 Illinois taxes are eligible to receive up to $700. Individual filers who make less than $200,000 will receive a $50 income tax rebate, and couples who make less than $400,000 will receive $100. Filers are also eligible for $100 per dependent, with a maximum of three.
Additionally, people who paid property taxes in 2021 on their primary residence in 2020 – and make less than $250,000 individually or $500,000 jointly – are eligible for up to $300. The rebate will be equal to the property tax a resident was qualified to claim on their 2021 taxes.
"Rebates are in route and will help with everyday necessities for families," said Villanueva. "Check your status online today."
For more information on how the funds will be dispersed or to see qualification criteria, visit tax.illinois.gov/rebates.
###
CHICAGO – Millones de residentes de Illinois están esperando recibir su devolución de impuestos como parte del Plan de Alivio a las Familias de Illinois. La Senadora Estatal Celina Villanueva recuerda a los residentes que pueden revisar fácilmente el estatus de su devolución en línea. "Estas devoluciones ayudarán al 95% de los contribuyentes a navegar las dificultades financieras causadas por la pandemia, la inflación y otras circunstancias inesperadas," dijo Villanueva (D-Chicago). "Las devoluciones están en camino, por lo que aconsejo a la gente que revise su estatus."
Con el apoyo de Villanueva, el Senado de Illinois impulso la iniciativa del Senado 157, que ofrece alivio financiero a millones de contribuyentes de Illinois -incluyendo devoluciones de impuestos. Estas devoluciones comenzarán el 12 de septiembre, que podrían dejar a muchos preguntándose cuándo recibirán este alivio.
Las personas que presentaron su declaración de impuestos recibirán automáticamente la devolución -de otra manera, tienen hasta el 17 de octubre para ello. Para revisar el estatus de su devolución dé clic aquí y seleccione "Where's My Rebate?" Un número IL-PIN es necesario para revisar el estatus. Para obtener un número IL-PIN dé clic aquí y seleccione "IL-PIN Inquiry."
De acuerdo con la ley, las personas que presentaron declaración de impuestos en 2021 en Illinois son elegibles para recibir hasta $700. Los contribuyentes individuales que ganan menos de $200,000 recibirán $50 en devolución de impuestos, y las parejas que ganan menos de $400,000 recibirán $100. Los contribuyentes también son elegibles a una devolución de $100 por dependiente, con un máximo de tres.
Además, las personas que pagan impuestos a la propiedad en 2021 sobre su principal residencia en 2020 -y ganan menos de $250,000 individualmente, o $500,000 en conjunto- son elegibles a recibir hasta $300. La devolución será igual al impuesto a la propiedad que un residente puedo reclamar en su declaración de impuestos de 2021.
"Las devoluciones están en camino y ayudarán con las necesidades cotidianas de las familias," dijo Villanueva. "Revise su estatus en línea hoy."
Para más información sobre cómo se distribuirán los fondos o para ver el criterio para calificar visite tax.illinois.gov/rebates.
Category: Information